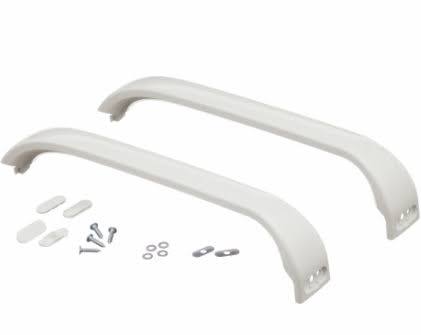 Refrigerator White Door Handle - Pack of 2
by Bosch
Pair of replacement genuine fridge freezer door handles for a large range of selected Bosch refrigeration appliances.
These Bosch fridge freezer handles may look slightly different to the handles currently fitted to your Bosch fridge freezer. The design has been changed to improve the strength of the handle and to accommodate both single and double screw fixing.
The redesign takes into account other Bosch models so the handle now has a 3 screw hole fixing design. Simply use the fixing holes to match your appliance and clip the supplied cover in place to hide all fixing holes. Match the middle one hole fixing or the two outer screw fixings with the fixing supplied.
Fitting instructions are included with these Bosch fridge freezer handles.
Length of this handle is approx 315mm.
Please note: There is another Bosch fridge freezer door handle which looks very similar to these handles but it is slightly shorter at 290mm. 
To see if this item fits your appliance, just put your part number in the magnifying glass in the top right of your browser, this will list these handles if they are available, if not message us or call us and we will find the correct item for you!