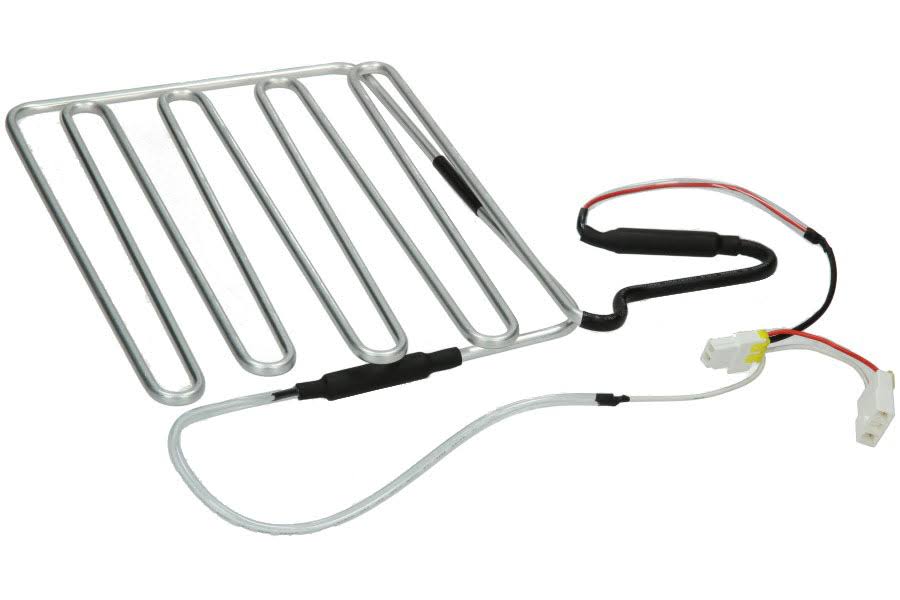 Samsung Defrost Heater - Evaporator by Radvac
by Radvac
Fridge Defrost Heater
The evaporator is responsible for melting the ice off the evaporator coil; the coil is responsible for removing warm air. When the coil isn't allowed to perform as it should then you risk having your food spoil.
Replace your defrost heater with this replacement, once installed you can bring your fridge back from brink, and continue to store and contain your food with ease.
This is a high quality non genuine spare part made by Radvac, Manufacturer part numbers and models numbers are used as a guide only. 
Spare part for select models of Samsung fridge freezers. Please check below for fit list to ensure this is the right part for your appliance, if you are unsure please send us a message or give us a call, we will ensure we find the correct spare part for you
Samsung Part Fit List;
RS21DABB1/XEU,
RS21DCMS1/XEU,
RS21DCNS1/XEU,
RS21DCSV1/XEU,
RS21DGRS1/XEU,
RS21DLAL2/XEU,
RS21DLBG1/XEU,
RS21DLMR1/XEU,
RS21DNMS1/XEU,
RS21DNNS1/XEU,
RS21DNSV1/XEU,
RS21DPSM1/XEU,
RS21FCNS1/XEU,
RS21FCSV1/XEU,
RS21FGRS1/XEU,
RS21JCNS1/XEU,
RS21JCSV1/XEU,
RS21JGNS1/XEU,
RS21JGRS1/XEU,
RS21JLAL1/XEU,
RS21JLAT1/XEU,
RS21JLBG1/XEU,
RS21JLBL1/XEU,
RS21JLMR1/XEU,
RS21JLSG1/XEU,
RS21JPSV1/XEU,
RS21JXNA1/XEU,
RS21KGNS1/XEU,
RS21KGRS1/XEU,
RS21KPSV1/XEU,
RS21NABB1/XEU,
RS21NCMS1/XEU,
RS21NCNS1/XEU,
RS21NCSV1/XEU,
RS21NGRS1/XEU,
RS21NLBG1/XEU,
RS21NPSV1/XEU,
RS21WASM2/XEU,
RS21WCNS1/XEU,
RS21WCSV1/XEU,
RSE8DZAS1/XEU,
RSE8JPAS1/XEU,
RSE8JPUS1/XEU,
RSE8KPAS1/XEU,
RSE8KPMS1/XEU,
RSE8KPPS1/XEU,
RSE8KPUS1/XEU,
RSE8NPAS1/XEU,
RSE8PKAS1/XEU,
RSE8VPAS1/XEU,
SRS2026,
SRS2028, S
RS2029