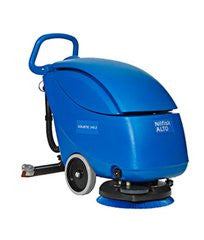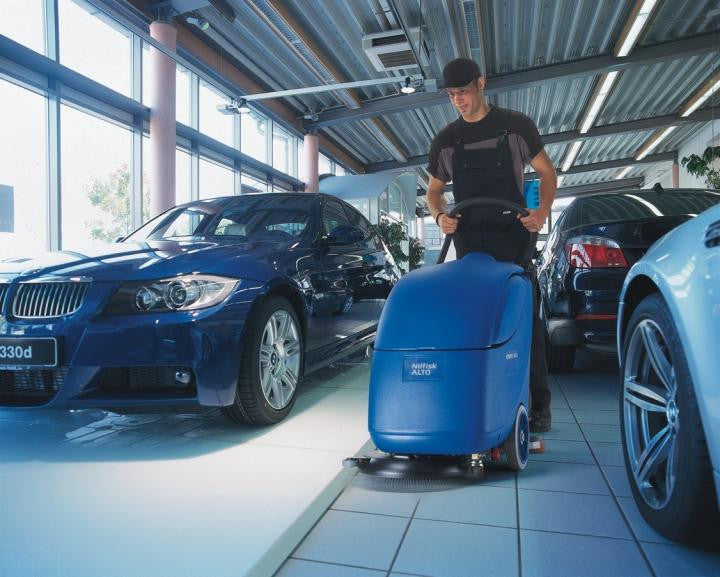 SCRUBTEC 343.2E Scrubber Dryer
by Nilfisk
This upgraded SCRUBTEC 343.2 has improved operator comfort with a new squeegee lifting system operated by a convenient foot pedal. The machine delivers higher pressure and increased suction leading to cleaner floors and higher productivity. The new no-tool deck adjustment provides better traction and performance. The polypropylene deck is more shock resistant resulting in less service costs and further reliability. The cable-less design and updated brush and vacuum motor cover protects electrical components, reducing maintenance. SCRUBTEC 343.2 is a scrubber dryer for light to medium floor cleaning tasks in garages,showrooms, small warehouses, factories and the food industry. The SCRUBTEC 343.2 offers the functionality and capabilities of a larger machine but remains easy to use and highly manoeuvrable. It offers high pressure and great suction resulting cleaner floors. It enables you to clean quickly and efficiently due to its compact design, even in hard to reach places. SCRUBTEC 343.2 is available as a combi-model with On-Board Charger, battery and brush included; a battery version with On-Board Charger, and a cable version including brush. It is equipped with a 31 litre solution tank.
The new SCRUBTEC 343.2 has built on the successes of the popular SCRUBTEC 343 with improvements in the squeegee system, solution flow, safety and performance. A reliable and productive machine with excellent performance and low service costs. It is ideal for light to medium floor cleaning tasks.
Robust design with less risk of damage, saves service costs.
New easy to use, ecofriendly electronic water flow control.
Double scrubbing without wasting water reduces the total cost of ownership and helps the environment.
No tool deck adjustment makes it simple to customise brush pressure and traction dependent on the conditions.
Quick and easy to check the water level through the transparent hose.
Squeegee lifts with convenient foot pedal.