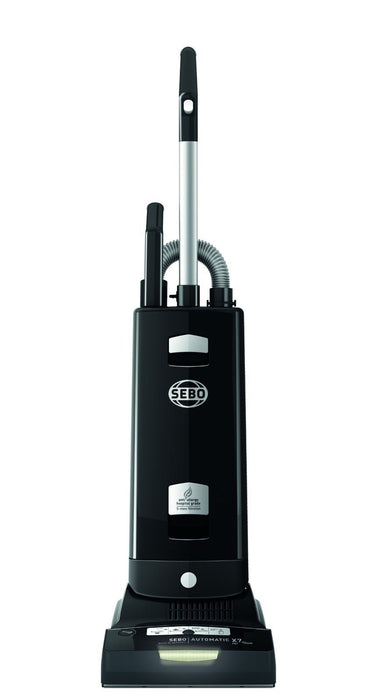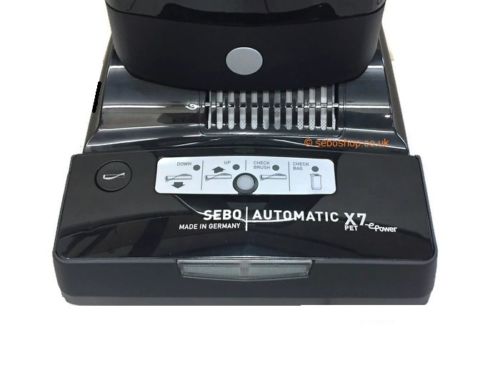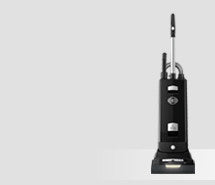 Sebo Automatic X7 Pet ePower Vacuum Cleaner
by Sebo
This is the newest top of the range model in the Sebo upright range, the Sebo Automatic X7 Pet ePower in gloss black. 
It uses a computer controlled system to optimise its performance on all floor types. This system ensures the brush is always at the correct height, and keeps the machine protected, for example by shutting the motor down in the event of a blockage.
The efficient airflow design makes the performance even better. An integrated wand extends the vacuum's reach so you can clean a larger space without moving, and the cassette-style brush roller removal is easy to use to quickly remove hair from the brushroll.
This model is aimed at the busy family home. These X series machines are renowned for removing dirt and hair lodged in carpets, so you can be certain the all new Sebo X7 ePower will leave your floors spotless.
Sebo vacuum cleaners are endorsed by Allergy UK (the British Allergy Foundation), recommended by Which? Magazine, Axminster Carpets and the Good Housekeeping Institute among others.
The X7 ePower Pet has a large 5.3 litre capacity bag, ensuring that you can keep cleaning longer without having to stop. Being a bagged vacuum cleaner means that when it's full, you just swap the bag with a new one.
The X7 ePower Pet comes with the following: 
Integrated wand and hose
Long extension hose giving you reach up the stairs or into the car
Boost button for getting deep into your carpet pile
Vacuum driven mini turbine tool
Crevice tool
Upholstery and stair tool
Dusting brush tool 
Using this machine makes it very easy to reach high ceilings, removing cobwebs with ease. The extension hose and mini turbine tool makes it easy to get up stairs, under furniture or around the car. 
Sebo are known for their superior reliability and high standards of engineering and design, so you know your X7 ePower will work properly for many years. As with all Sebo vacuum cleaners, there is a five year guarantee with the X7 ePower Pet.