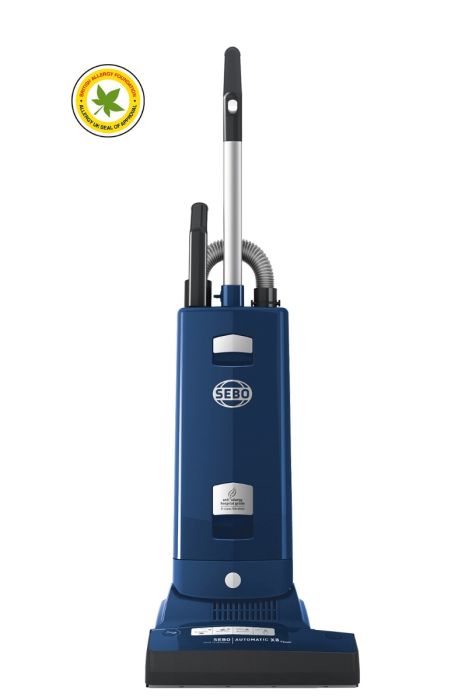 SEBO AUTOMATIC X8 WIDETRACK Sebo Main Dealer
by sebo
The SEBO AUTOMATIC X ePower range are upright vacuum cleaners of professional quality, performance and reliability that are designed for use in the home.
Innovation. The Computer Control System optimises performance, ensuring that the brush is always at the correct height for ease of use and long carpet life. It also protects the machine, for example by shutting down the motor if there is a blockage. Other innovative and practical features include cassette style brush roller removal and an integrated wand for extended reach. The AUTOMATIC X8 WIDETRACK ePower features an extended reach hose system for stair cleaning and a wider head for rapid cleaning of large areas. The 37cm cleaning head is L-shaped allowing it to pass under radiators during edge cleaning.
Performance. The high performance motor, the Computer Control System and the efficient air flow design combine to give outstanding cleaning results - which is why SEBO regularly comes top in independent tests.
Quality. Made in Germany, SEBO vacuum cleaners are constructed from the highest quality materials. Every SEBO vacuum cleaner is fully tested before it leaves the factory, so that you can be confident that in buying a SEBO, you are buying the best.